Bitatto REGULAR
---
Availability:Out Of Stock

Brand: Bitatto

Product Code: regular
Bitatto is a reusable lid for wet wipes. It applies to all types of wet wipes.
It prevents a problem of drying out and keep tissues moist and durable.
It is simple and allows one-handed use!
Have you ever experienced your wet tissues dried out because the resealable label of the opening package doesn't work anymore?
Bitatto can solve this inconvenient problem!
Just peel off the resealable label on a wet wipes package and apply Bitatto lid! When the wet wipes are finished, remove Bitatto and apply to the next pack!

Suitable for any Wet Tissue packs; Baby Wipes, Antibacterial Wipes, Make-up remover wipes, Pet Care Wipes, Home Cleaning Wipes. Start using Bitatto to keep your wet tissues moist!

1. Bitatto lids can be used repeatedly
2. Keep wet tissues moist, even until the last piece!
3. Easy to pull out from the flip-top lid
4. Great quality from Japan and washable adhesive.
5. Hygienic
6. Eco-friendly. Just transfer Bitatto lid to the next Wet Tissue pack!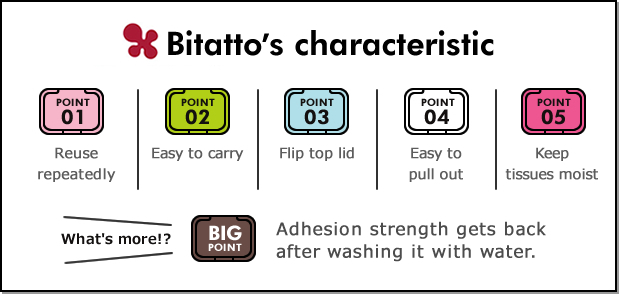 How to use Bitatto:
Remove the resealable label from the wet wipes package.

Peel off the protective film from the reverse side of Bitatto.
※Be careful not to take off the adhesive sheet together.

Apply the Bitatto.
※Make sure there are no winkles, water, oil or dust on the package before applying Bitatto.

Remove Bitatto gently from the wet tissue.
※Adhesive sheets could be separated from if you remove Bitatto with too much strength.
If adhesive becomes weak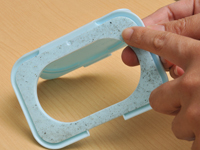 If the adhesive sheet's strength becomes weak by dust or dirt, it is available to recover with water and natural dry.
If adhesive sheet becomes weak by oil such as from the hand or ink, clean it softly with neutral detergent or alcohol sanitizer.
How to clean up:
Wash adhesive sheets softly with water.
※Do not scrub it with nails or sharp stuff.

The adhesive strength gets back after drying naturally.
※Bitatto is not a disposable product. It can be reused repeatedly. Its life span is subject to usage environment and frequency.